Making the move to become self-employed is an attractive concept, but it's also a big step. That's why we've created a guide on becoming your own boss, arming you with all the facts to help steer you in the right direction.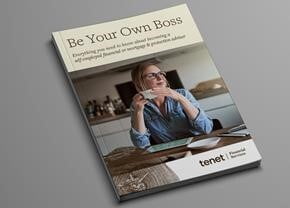 If the freedom and autonomy of being self-employed sounds like the right next step for you, if you're an employed mortgage or financial adviser, this guide gives you all the facts you need to make the most informed decision.
Download our guide here to find out:

The questions you need to ask yourself to decide if it's right for you

Legal structure, potential costs and support you'll need to consider

How much more you could earn
Our Business Managers can talk you through the process of becoming self-employed under an established brand like Tenet Financial Services. J
ust click
here
to book a one-to-one session to find out more.